Welcome back to Kidds – we're here for you in Level 3.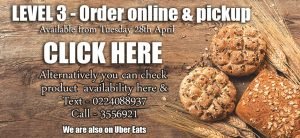 This last week has been crazy, trying to think what we can offer you.  Luckily, a lot of you answered our Facebook question – what did you want most?  The answer came back overwhelmingly – Pies, Coffee and Hot Cross Buns, not necessarily in that order!
We hope we've got it right, but please bear with us in the early stages, while we get stock levels right and get used to some new systems.
So just how is this going to work at Kidds?  You have 3 options:
Order online, pay online and pick up at Kidds – this is the link  We highly recommend this option as it is the safest and provides minimum contact.  You can specify the date and time that you will be picking up.  We haven't put any notice times on this, but it would work best for you and us if you can even put your order in the day before, though we will be trying to fill orders each day.  If there is any problem, we will contact you.  We are also updating the website with any items that may be sold out, so you know what is available at all times.
Order By Text or Phone, then pick up and pay at Kidds. We suggest you look on the website first to check that the products are still in stock.  We also have a menu list to help you decide, click here for the menu on our Facebook page.  Yes, it's a restricted menu, but we've still managed to put out 2 pages of products.  Hope you find something you like on there. Payment should be contactless, see below for details.
Order on Uber and get home delivery.  Here is the link click here
Contactless pick up – We will have a table at the front door, which we can pass the orders through to you.  Our staff will be wearing gloves and masks and there will be a barrier between you both.  For those who have to pay, we ask that you do that with a contactless card.  We can't receive cash due to safety reasons.
So looking forward to seeing you at our place again, even if you can't get in the door!  Hope life in your bubbles can be a bit better, with some lovely comfort food from Kidds.  Stay safe and well, Kia Kaha to you all.