Kidd's Cakes and Bakery is not just about baking the best goods but also giving the best customer service possible. That's why if you have any questions or enquiries, you can always leave us a message.
Fill up the enquiry form and our team will get back to you within 24-48 hours. For urgent matters, especially orders and deliveries within Christchurch, you can call or send us an email. We are open 7 days a week from 8 AM to 4 PM.
Place your orders or visit our cafe today!
Why Kidd's Cakes and Bakery?
Since 1986, we have been treating Christchurch locals and visitors with sweet, decadent, and sumptuous goods made only from the best locally-sourced ingredients. We're essentially the original cake specialists in the city, but even though many shops have popped up in recent years people still choose us as their favourite cake and dessert makers.
As for our cakes, we bake for all occasions including but not limited to weddings, birthdays, and business events, just to name a few. Get acquainted with our delicious cookies, fruit pies, quiches, and sausage rolls as well.
Looking for a dine-in experience? We have a bakery/cafe which opened in 2014 that serves a variety of local and international dishes. Order our popular BIG breakfast, fish and chips, and grilled mushroom on sourdough. We also have a children's menu that includes all-time kids favourites including waffles, chicken nuggets, and fries.
We look forward to hearing from you!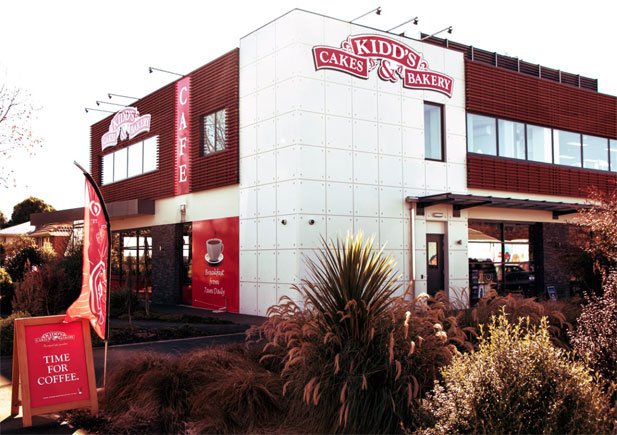 For special cake requests please contact us, or come into our store at 254 Cranford St.
Address
254 Cranford Street, St. Albans, Christchurch, New Zealand
Opening Hours
Monday – Friday: 8am – 4pm
Saturday & Sunday: 8am – 4pm
Kidd's Cakes & Bakery is a New Zealand owned and operated business.